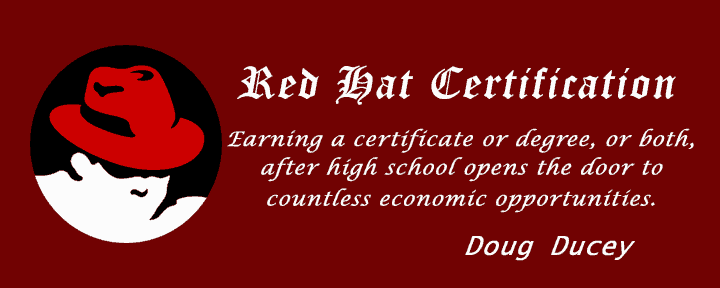 Red Hat, Inc. is a top open source solution provider, who provides their solution to multiple Fortune 500 companies.
The Red Hat company is well known for Red Hat Enterprise Linux (RHEL) distribution.
Red Hat also provides JBoss middleware server, Virtualization for cross-platform, cloud computing technologies like Open Stack and CloudForms and much more.
It  offers multiple professional Red Hat certifications for various technologies including Operating System, Storage, Virtualization, Cloud computing etc.
Red Hat Certification Program Overview
The Red Hat Certification Program, target to almost all professional in Information technologies including System Administrator, System Engineers, System Architects, Solution Architects, Enterprise Developers, Application Administrator, Cloud Administrator, Virtualization Administrator, who use Reh Hat Enterprise Linux (RHEL) in their IT infrastructure.
These certification programs are to ensure the individual is proficient in Red Hat Linux by requiring to pass skill-based certification exams.
Many certification exams ask multiple choice question (MCQ) but Red Hat conduct certification examination on real-world tasks, and you need to perform using Red Hat technologies to pass those exams.
When you secure passing grades in Red Hat certification exam, you become a Red Hat Certified Professional. After earning Red Hat certification, you will get access to Red Hat Certification Central, where you can connect with potential employers, join the Red Hat community, create study groups and collaborate on projects.
Red Hat Certificate Programs
There are multiple certifications provided by Red Hat, Inc. Here, you can find a list of certification programs offered by Red Hat.
RHCSA – Red Hat Certified System Administrator
RHCE – Red Hat Certified Engineer
RHCVA – Red Hat Certified Virtualization Administrator
RHCA – Red Hat Certified Architect
JBCAA – JBoss Certified Application Administrator
Red Hat Certified System Administrator
The RHCSA certification is for RHEL administrator required by any organisation to meet U.S. Department of Defense Directive 8570. The RHCSA is prerequisite for RHCE exam, so if you want to become Red Hat certified Engineer first you have to clear RHCSA exam.
The Red Hat offers three training programs for RHCSA certification. Red Hat System Administration I (RH124), and Red Hat System Administration II (RH134). You can also take the RHCSA rapid track course (RH199) to prepare for the RHCSA exam.
To earn RHCSA certification, you must pass the RHCSA exam (EX200).
Red Hat Certified Engineer
The RHCE certification is the senior level of RHCSA certification.
To earn RHCE certificate, you must first become RHCSA certified. The recommended training from Red Hat is Red Hat System Administration III (RH254).
To complete RHCE certification, you must pass the RHCE Exam (EX300), which is based on RHEL 7.